Continue reading to learn how to sign up for the tech preview starting November 13th, 2017
Last week, Anurag Sharma laid out why you need to start transforming your design business if you want to prosper through the upcoming disruption that immersive AR and VR technologies promise to bring to the field.
In case you missed it: this transformation is critically important, but it's still hard to execute. 
This week, we're going to take a first look at something new that we hope might make things a little easier: the Forge AR|VR Toolkit which you'll be able to try the tech preview starting November 13th, 2017
On one hand, your Company may already have design data in Forge. 
On the other hand, you have people – clients, prospects, employees, contractors – who are asking to experience those designs in virtual and augmented reality today:
Designers need to collaborate to work, and experiencing a design together virtually, even when they're halfway across the globe, may let them solve hard problems, more easily.
Potential Clients may understand their options best when immersed in the design.
Professionals in the field can work safer, faster, and better when the BIM data is at their fingertips, in context of the real world.
Or maybe you have a truly new idea for an AR|VR experience that will revolutionize the way you or your customers design and build.
Whatever the application, if you've already tried creating those kinds of innovative, immersive experiences around Forge data, you've probably hit some roadblocks along the way. 
                                  AR|VR Toolkit helps stream Forge Data to your device
Bringing design data into real-time interactive engines often involves a clunky, off-line data preparation process, which is a problem for lots of reasons:
It's often manual. You need people to carry out these conversion steps, tweak the data appropriately, and make decisions along the way. This usually also means that the process is slow.
It's expensive, since you need people with special expertise in visualization tools and optimizing data for real-time use.
It's one-way. If you make a ton of changes in data prep, what happens when the original design data needs to change upstream? Often all that work tweaking the data is lost.
And all that is before you even get started having to design and implement the ways that people will experience and work with that design data inside your interactive engine.
--
There are a lot of thorny challenges to unpack here. We at Autodesk believe that we are uniquely placed to bring value all the way along the line. But, like you, we're still learning about what will make the best possible workflow. 
The first goal of the toolkit is - Getting your existing Forge data onto new AR/VR devices.  Specifically:
A library that decodes Forge data directly into your choice of real-time interactive engine (like Unity and Stingray).
Filter the mesh stream based on a query ie.

query a region of a manufactured part using the bounding box query
query a single floor of a building with a string parameter query

Request decimated meshes when you have limited polygon count budget
Save the optimized stream for offline use
Automated and Repeatable output, even if they may not (yet) have all the same beauty and realism that a visualization expert can achieve.
Know that your real-time engine is showing the very latest version, without the lag involved in things like off-line data prep, re-importing the data into a game editor, rebuilding and redeploying your app, etc.
In this first tech-preview, while we are streaming onto new devices, we understand that without data optimization it won't be production ready.  As such, we are reaching out to the Forge developer community to fine tune this new 'value added service'.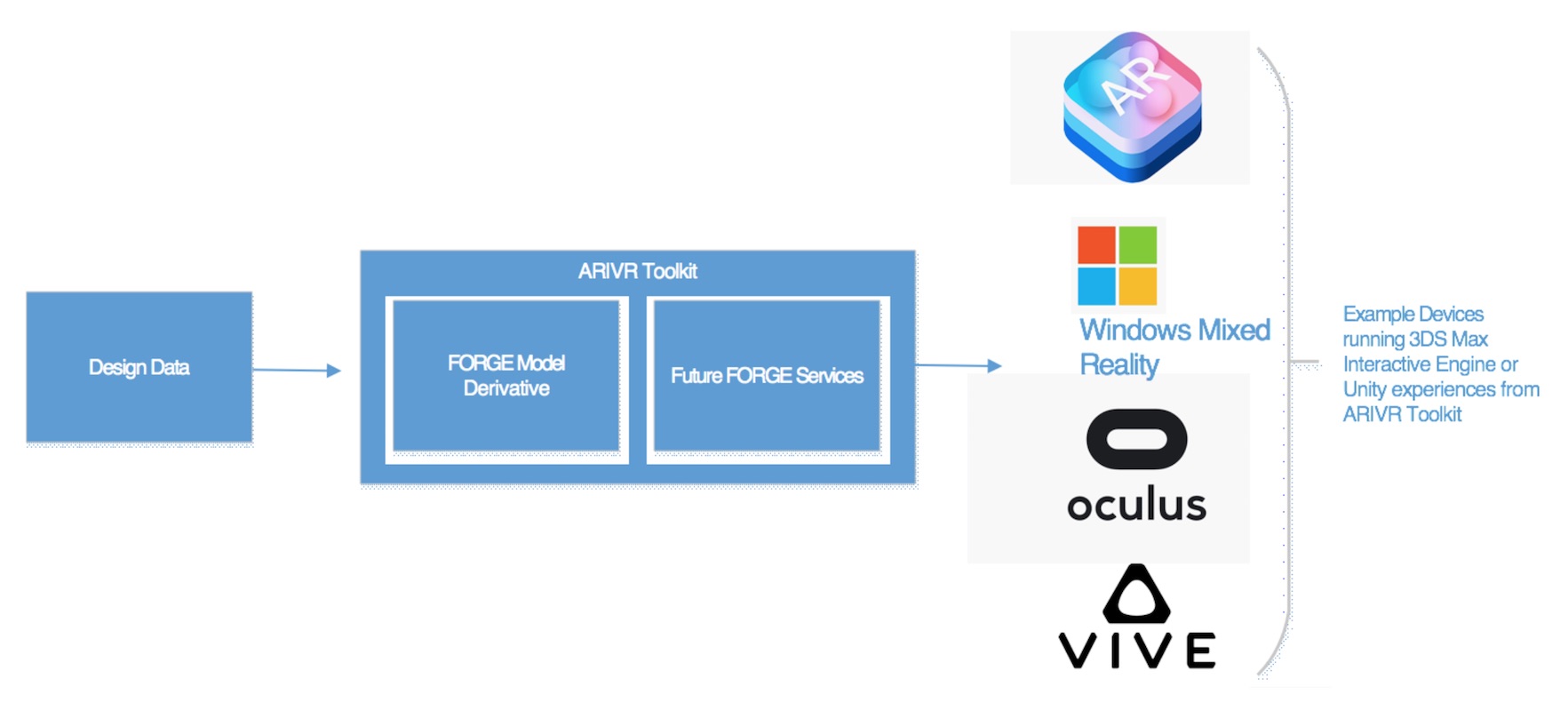 AR|VR-Toolkit Services will provide 'data-preparation' specifically for AR/VR workflows
Like our other Forge APIs, the AR/VR Toolkit will provide API documentation and step-by-step tutorials, to help you get started.
Moving forward, delivering robust data optimization is our number one priority, followed by new iterations of the data pipeline and support for more real-time interactive engines.  Get on board early, and help us steer this project where you need it to go. 
--
Have I got you curious to hear more?
Come see us at Forge DevCon 2017 at Autodesk University next week! We'll have an AR|VR playground staffed with experts to talk shop with.
we'll be launching the AR|VR Toolkit tech preview Monday, November 13th! Sign in here to beta.autodesk.com with your Autodesk account.
Watch this space for more news in the coming weeks!